---
Welcome To Lanes Pine Lodge

Located 5-miles from Raystown Lake, Tatman boat launch and Trough Creek State Park is nearby.
The Pine Lodge is perfect for larger families, vacations, reunions, retreats, conferences and parties.
This pine home is nestled in the serene woods of Central Pennsylvania and offers all the luxuries of
home including Air Conditioning, Wi-Fi plus much more.
Prices start at $300 depending on the number of persons in your group.

Outdoor Entertainment
Lanes Pine Lodge is a perfect place to come for family reunions, get together's, conferences, retreats and Christmas Parties.
Make use of the children's area supplied for playing horseshoes and volleyball with the nets provided,
go swimming at our in-ground Pool or just for a relaxing walk in he surrounding woods.
There is also a challenging 9 hole par 3 golf course for our guest's enjoyment.
We Are located in the heart of Raystown Country as well as many other Huntingdon County attractions
and there will never be a dull moment. Enjoy the peaceful, serene surroundings.
Perfect for Outdoor Gatherings
Ideal for reunions, vacations, conferencing, retreats, and parties with parking available on site.
Our fire ring is perfect for family campfire gatherings & even the wood is furnished!
A barbecue grill and gas grill are also available for outdoor cooking.
Sled Riding, Ice Skating, Cross Country Skiing and Snowmobile Riding are some of the
winter activities that can be enjoyed here at The Pine Lodge.
Fishing and Swimming
Along with our in-ground pool and gazebo,
be sure to take advantage of our two nearby fishing ponds.
Indoor Entertainment
Enjoy family entertainment with our
32" Tv-Vcr Combo, DVD player, radio with CD player and our Baby Grand piano.
We even supply a selection of Books & Movies
from westerns to hunting, comedies and
even children's books & movies.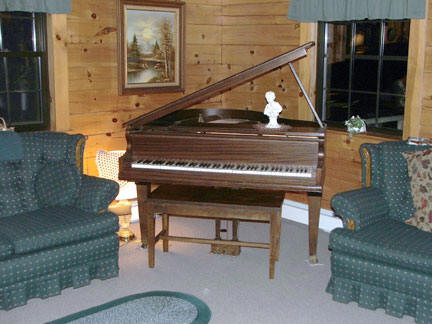 © Lanes Country Homestead & Pine Lodge
All Rights Reserved 2003-2021